The tiny community for your big dreams
Join a tight knit group of independent founders, creators and solopreneurs growing together.
🚀 Build cool stuff
🤗 Connect with like minded friends
💪 Get feedback, support, and mentorship
📆 September Events -
- Community Podcast Episode with Bhanu Teja (founder of Feather and SiteGPT) - 5th September
- Community Office Hours - 15th September
- Monthly Feedback call + Demo Day - 28th September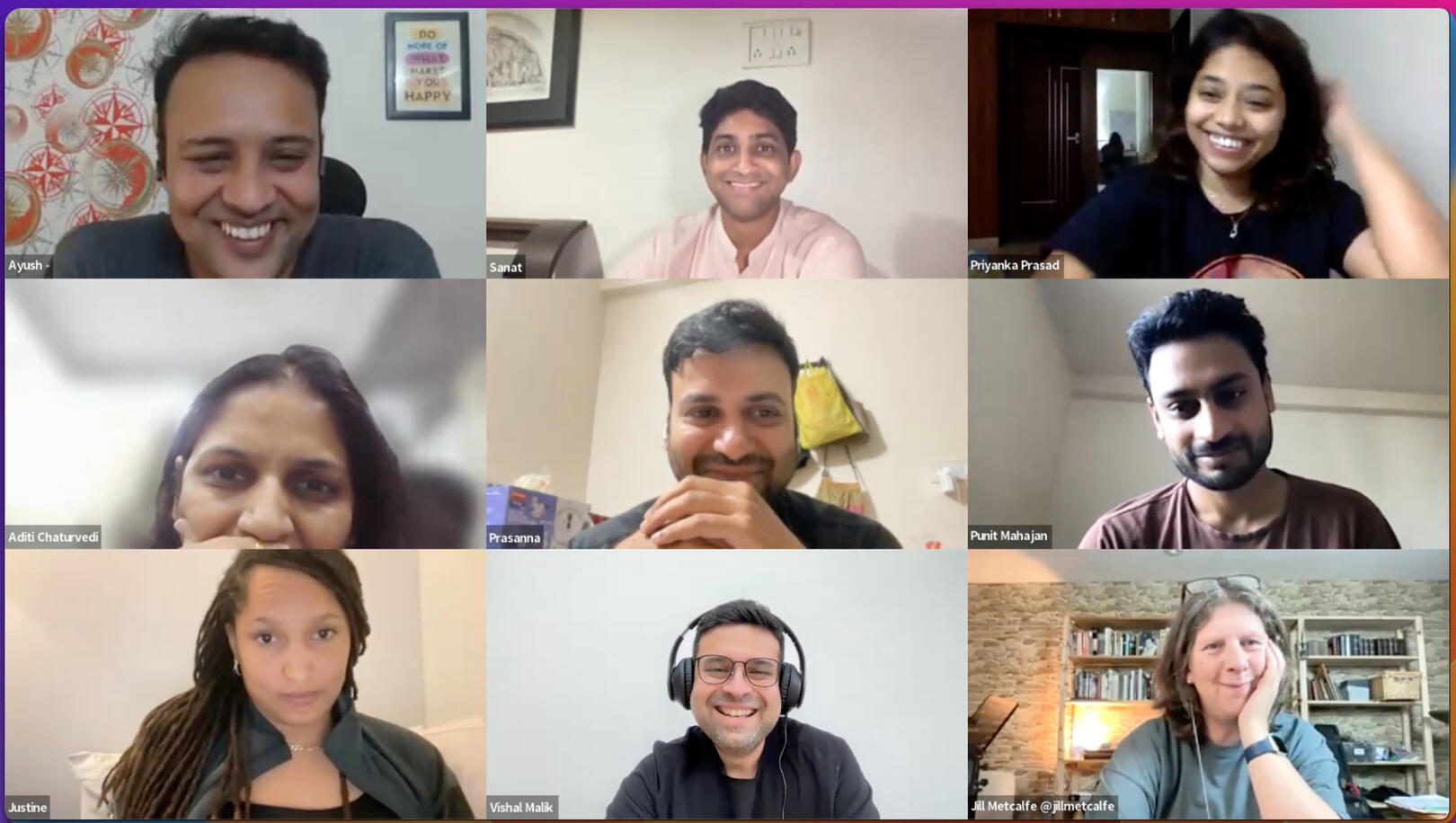 "Most Practical and Actionable Community"

⭐⭐⭐⭐⭐
Building a business is hard.
Doing it alone is harder...
Join a tight knit group of indie founders, creators and solopreneurs growing together.
😕
Your problems are unique
Your family doesn't understand what you're going through.
Your friends are oblivious to entrepreneurship.
And reading more content doesn't resolve your challenges.
You need someone who "gets" you
😯
Nobody gives you honest feedback
People close to you don't want to hurt you.
Finding someone to give you feedback is a pain in the butt.
And Twitter Influencers keep regurgitating the same generic advice every day 🤷
There's nobody to guide you
😑
Its easy to get stuck in a rut
How do you prioritize tasks?
Which aspect of your business do you focus on the most?
What are next 3 steps you should be taking?
You struggle to gain clarity
Your community is here to help...
🤗 We understand your challenges. we've been there, done that and want to help you.
🤔 We will give you honest feedback so you can be true to your business.
📈 And we will keep you accountable to your goals so you're always moving forward.
A support system for independent entrepreneurs
Bhanu
Founder, SiteGPT and Feather.so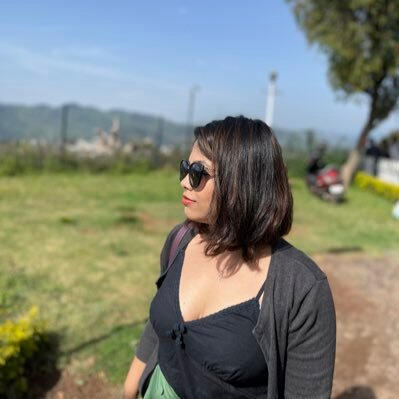 "Indie Masterminds is 100% worth the price.I was skeptical going in, because I don't know the people that are in the mastermind. So I didn't think I would get anything out of it. But because Ayush created this,I wanted to give it a shot and
it is 100% worth it.""⭐⭐⭐⭐⭐
Sathya
Founder, YVisuals App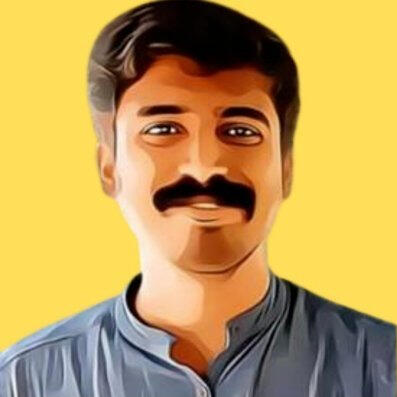 "For creative solopreneurs, a tribe of like-minded people is often the missing component. All thanks to Ayush' Indie Masterimnds now we have a sounding board & a support system to help each one of us carry on with our journey"⭐⭐⭐⭐⭐
Prasanna
Founder, Superstatz and Monitz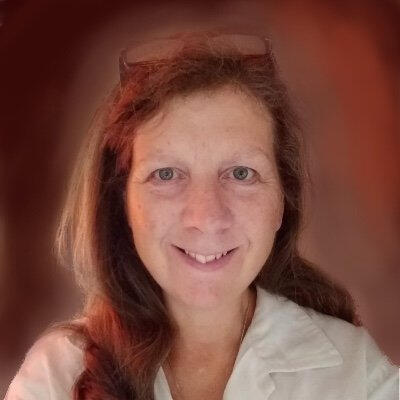 "I would highly recommend Indie Mastermind, if you are serious about building products. I like these especially -- Sessions on Marketing ideas & validations
- Fellow creator 's problem & how they approach in the hot seat sessions
- Action focused mini sprintsOn top of all these, Ayush is a friendly & straightforward person, whom we can rely upon for Accountability & Validations"⭐⭐⭐⭐⭐
Indie SaaS Founders 📈
Find hidden opportunities in niche markets

Run growth experiments that actually work

Achieve Product Market Fit
Creator Entrepreneurs 📚
Grow your newsletter, podcast or social following

Productize your knowledge

Sell more courses, e-books and memberships
Service Businesses 🏹
Monetize your skills

Get more leads, calls and clients

Grow your freelance or agency offerings
For the creatives, the misfits, the generalists... for the crazy ones!
If you want to build a side hustle or a small business on the internet, and you're looking for like minded people to hang out with.This is the place for you!Even if right now, you have no idea what you want to build, or have too many ideas, we will keep you accountable, we will help you ship, and we will be there by your side when you need to take some tough decisions.If you're a creative entrepreneur, we're your tribe.
Why does this community exist?
More authenticity, less chest thumping!
Every social media platform today is flooded with "influencers" shouting from the rooftops about their glorious achievements. Their only goal - to extract as much money out of you as possible.Unfortunately, social media algorithms are designed in such a way that the loudest voices win out.There is no space left for honest, real conversations. Heck, if you don't have a thousand followers, it almost feels like you're shouting in the void like a crazy person.Social media isn't social anymore!The only solution is to form small communities like this one. We're algorithm free, conducive to honest conversations and encourage free flowing exchanges.Doesn't matter if you have 1 follower or a million.We're a community of equals. There is no influencer lecturing you from a podium. We're just a bunch of peers learning from each other.No one is here to grow their following.No one is here to sell their product to you.No one is here to thump their chest like gorilla.We're all here for authentic human connection.The question is - are you interested in authentic human connection?
Easy Pricing according to your needs
Annual Pass
$150/Year
Limited time price*
12 Month Community Membership

Private Slack group (80+ members)

Monthly events, workshops, deep dive sessions on topics like Marketing, Positioning, Pricing etc.

Monthly challenges and demo days

1:1 Intros with other founders and creators

30 minute 1:1 strategy session (once a quarter)

Private Book Club
Lifetime Pass
$175/Once
Limited time price*
Lifetime Community Membership

Private Slack group (80+ members)

Monthly events, workshops, deep dive sessions on topics like Marketing, Positioning, Pricing etc.

Monthly challenges and demo days

1:1 Intros with other founders and creators

30 minute 1:1 strategy session (once a quarter)

Private Book Club

*5 seats left
Private Slack Community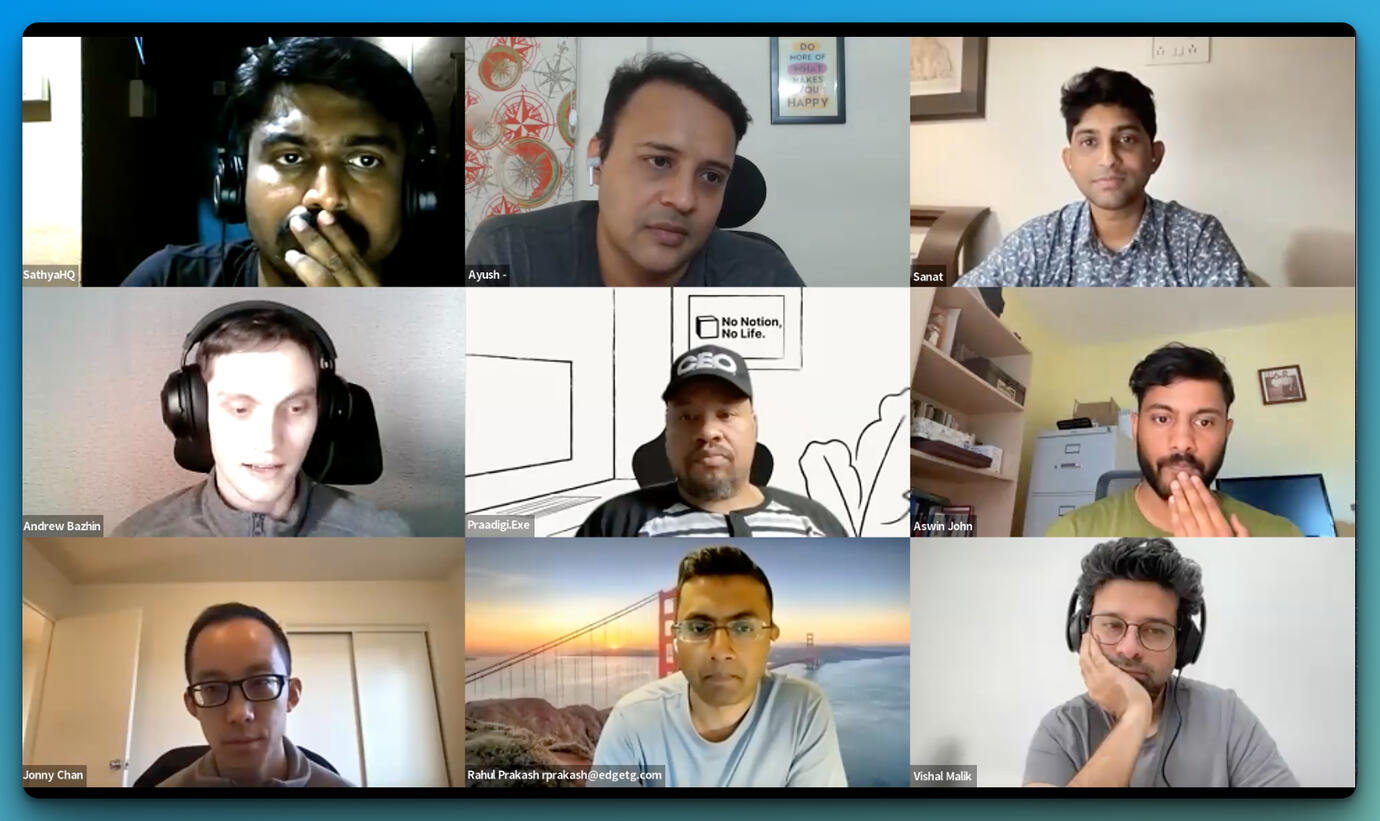 A tight-knit community of 80+ members across 16 time zones.
Creators, makers, indie hackers from all around the world.
Learning and growing together everyday.
Community Meetups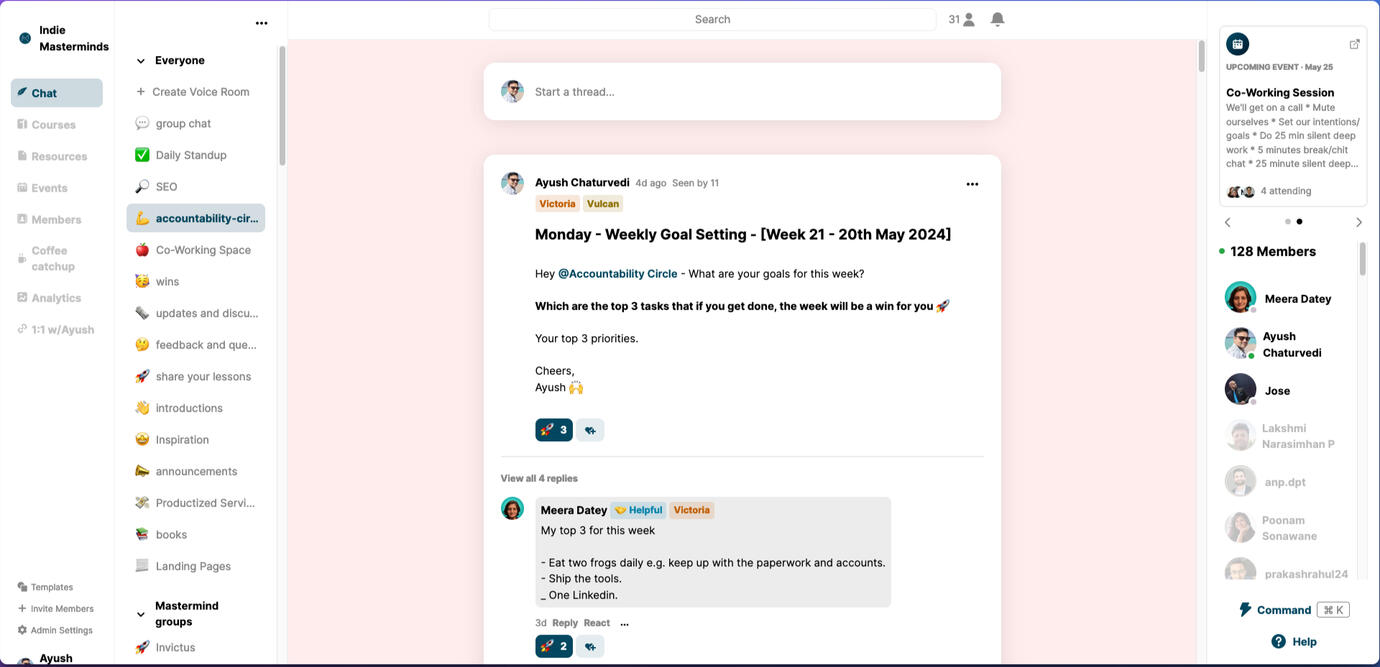 Community feedback calls, retrospectives and demo days.
Where the group helps you move forward towards your goals.
Deep Dive Workshops
Highly actionable deep dive sessions and workshops.
Sessions on topics like - Early Stage Marketing, Positioning, Pricing Strategies etc.
Community Book Club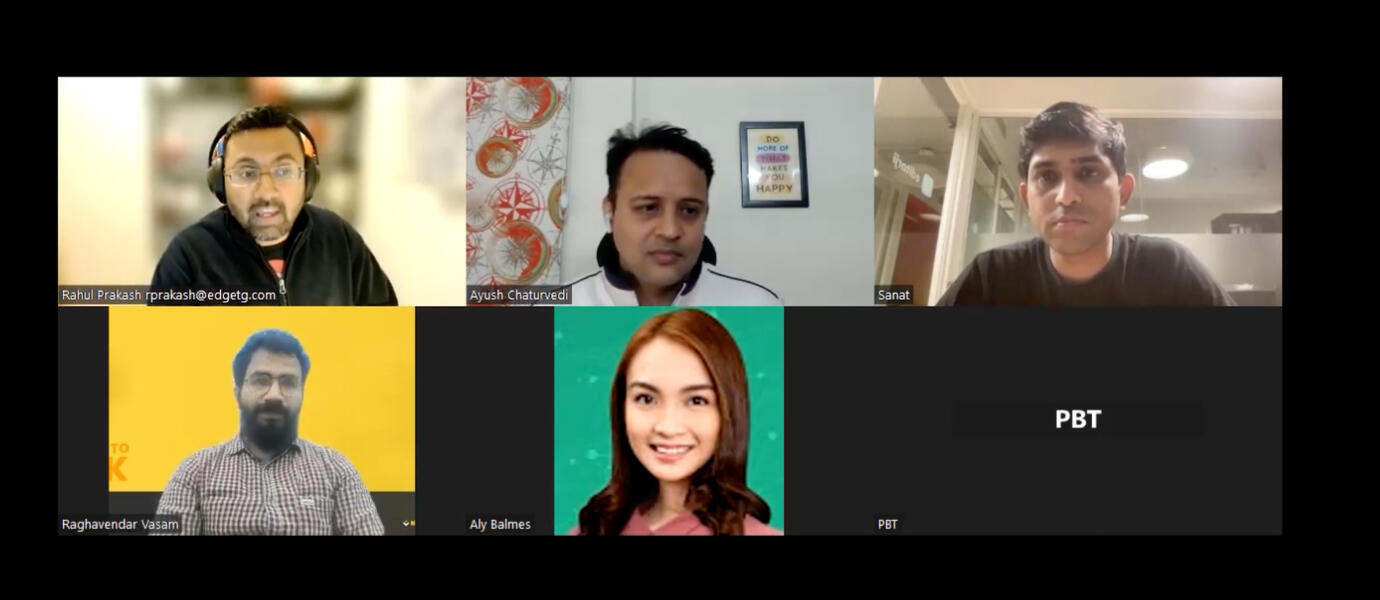 Community-Only book club where we read 1 book around entrepreneurship every month.Monthly live sessions to discuss the top lessons from the book of the month
Monthly Challenges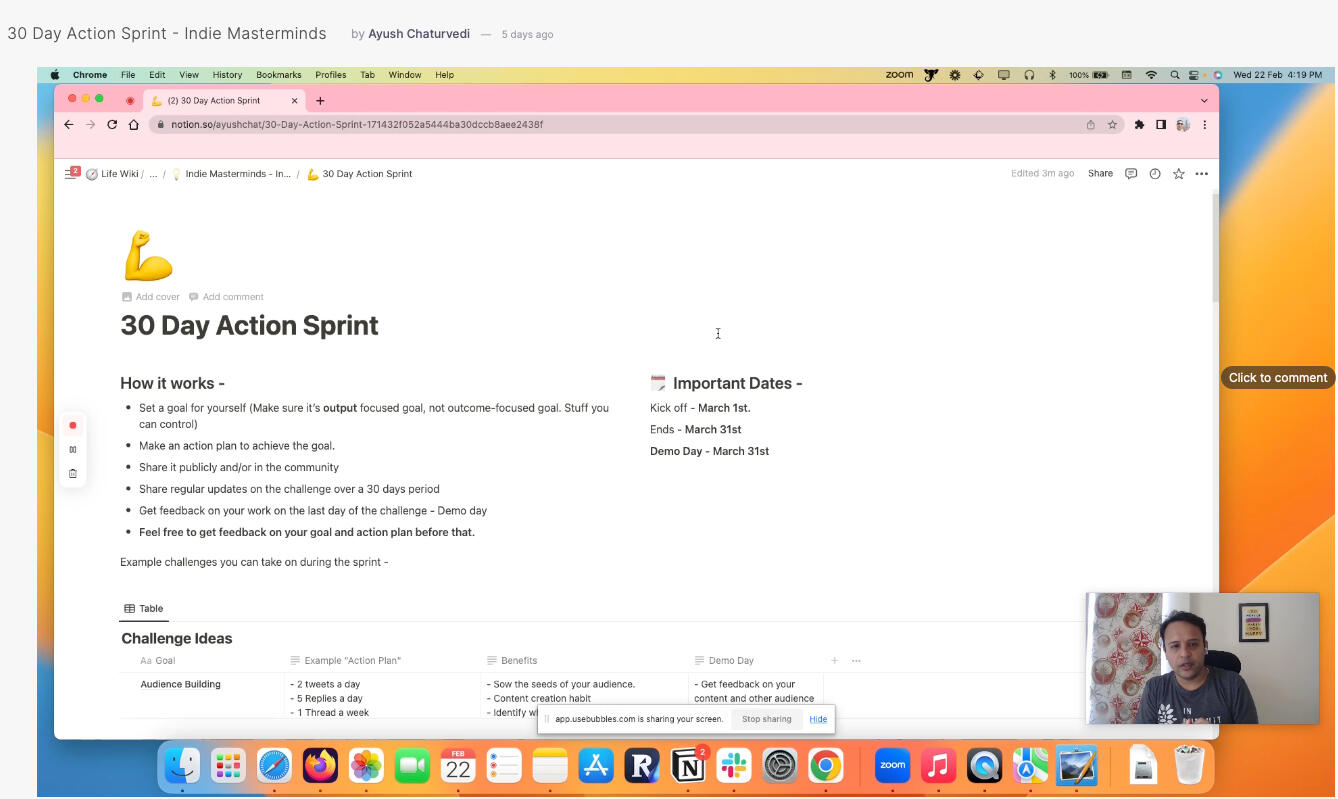 Community Only challenges, sprints and demo days.So that you stay on track towards your goals, get external accountability and do work that actually moves the needle.
1:1 Introductions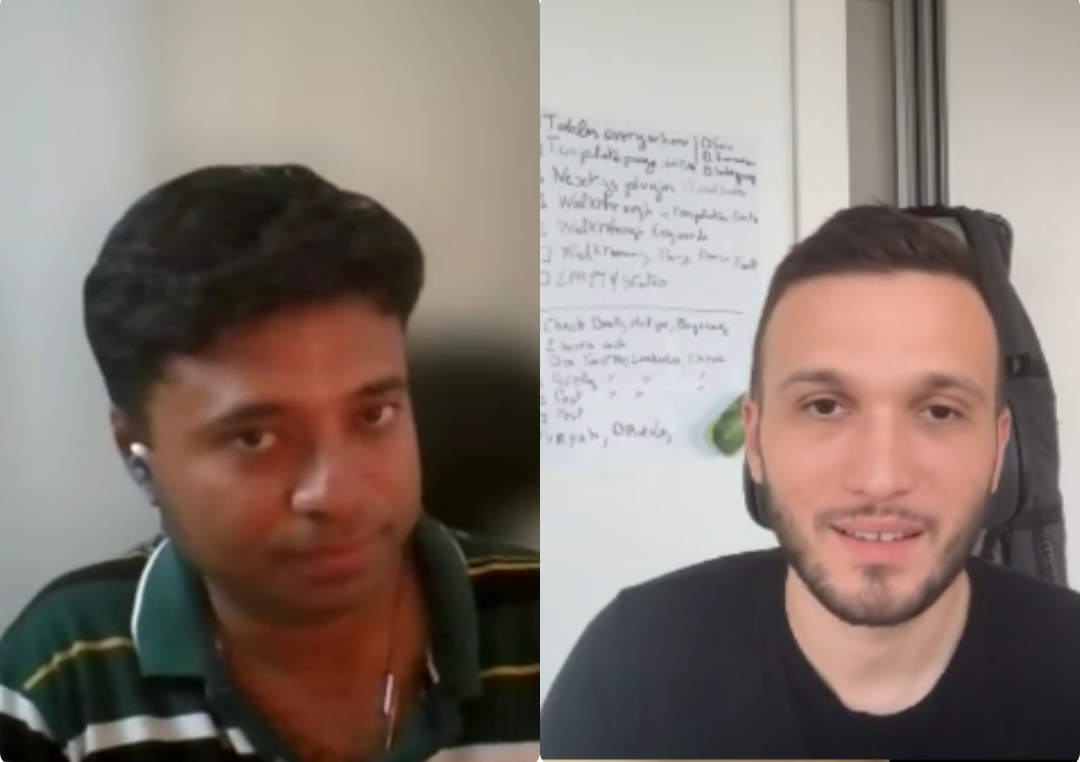 Every month you get matched with 1 cool founder from the community.So you can expand your network and learn from the wisdom from a wide network of entrepreneurs
Exclusive Resources
The Right resources to help you at every step...
💰 Deals and discounts
💪 Expert sessions and guest interviews
📚 Quick trainings and tutorialsAnd lots more...
Full Stack Developer and Founder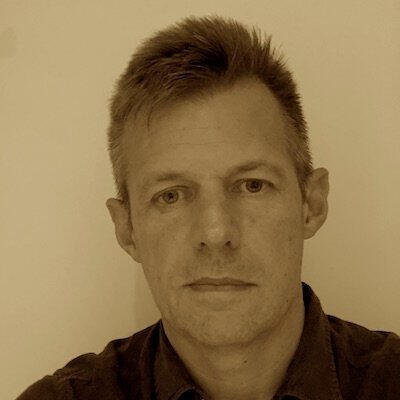 "Has been so inspiring to be part of a community of like minded members. As a solo software developer I feel connected and can openly share thoughts, alongside progress and receive valuable honest feedback. Ayush has really helped me along this journey and can't thank him enough for setting up this fantastic community which I wouldn't hesitate to recommend."⭐⭐⭐⭐⭐
Founder, Family Tech Help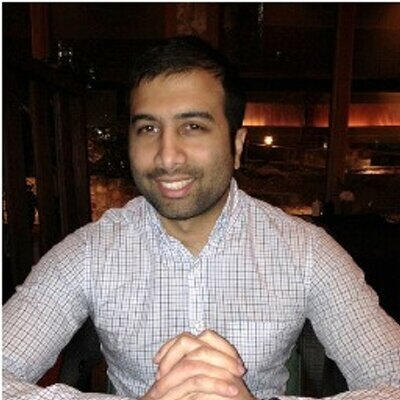 "I joined in one of the monthly sessions, and am an active member of the community. Ayush created one of the most practical, valuable communities I've ever been a part of, and I've been part of many. I would recommend this to everyone!"⭐⭐⭐⭐⭐
SaaS Founder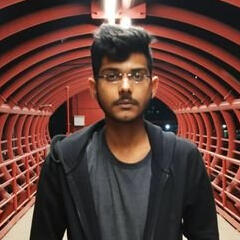 "The Indie mastermind community fast-tracks your journey to achieving your goals. In a few weeks after joining, I finished my MVP and had two sales calls with potential customers and I also had a lot of 'aha' moments while talking to Ayush and fellow indie hackers. It's amazing how accountable you are to yourself with the help of your fellow community members, which is one of the reasons why I've subscribed again to be part of the community."⭐⭐⭐⭐⭐
Our private community podcast
0 to $20K MRR in 12 months with Bhanu Teja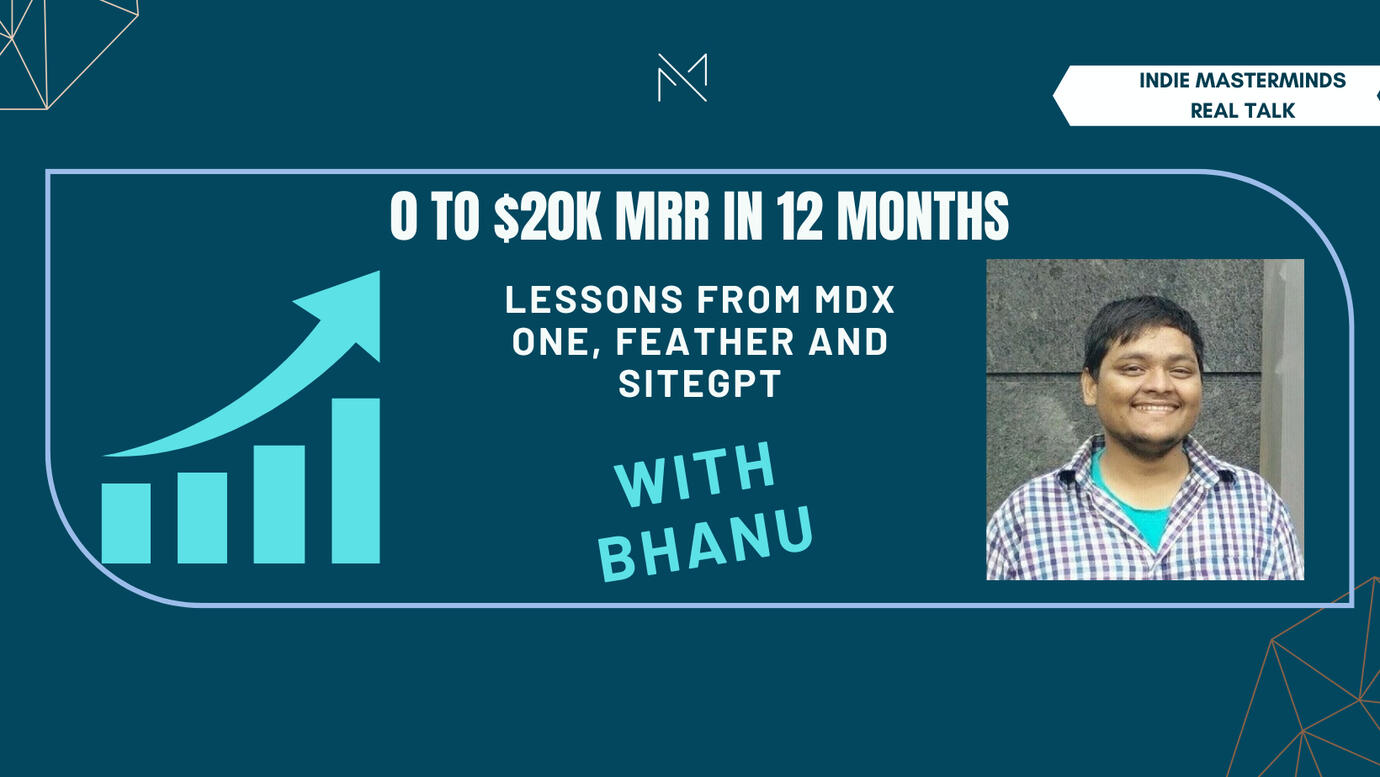 The power of building in public. How Bhanu works on 2 SaaS startups in parallel. (Feather and SiteGPT)
How he builds new features, how he comes up with new ideas for projects and lots more...
Measurement Marketing with Kyani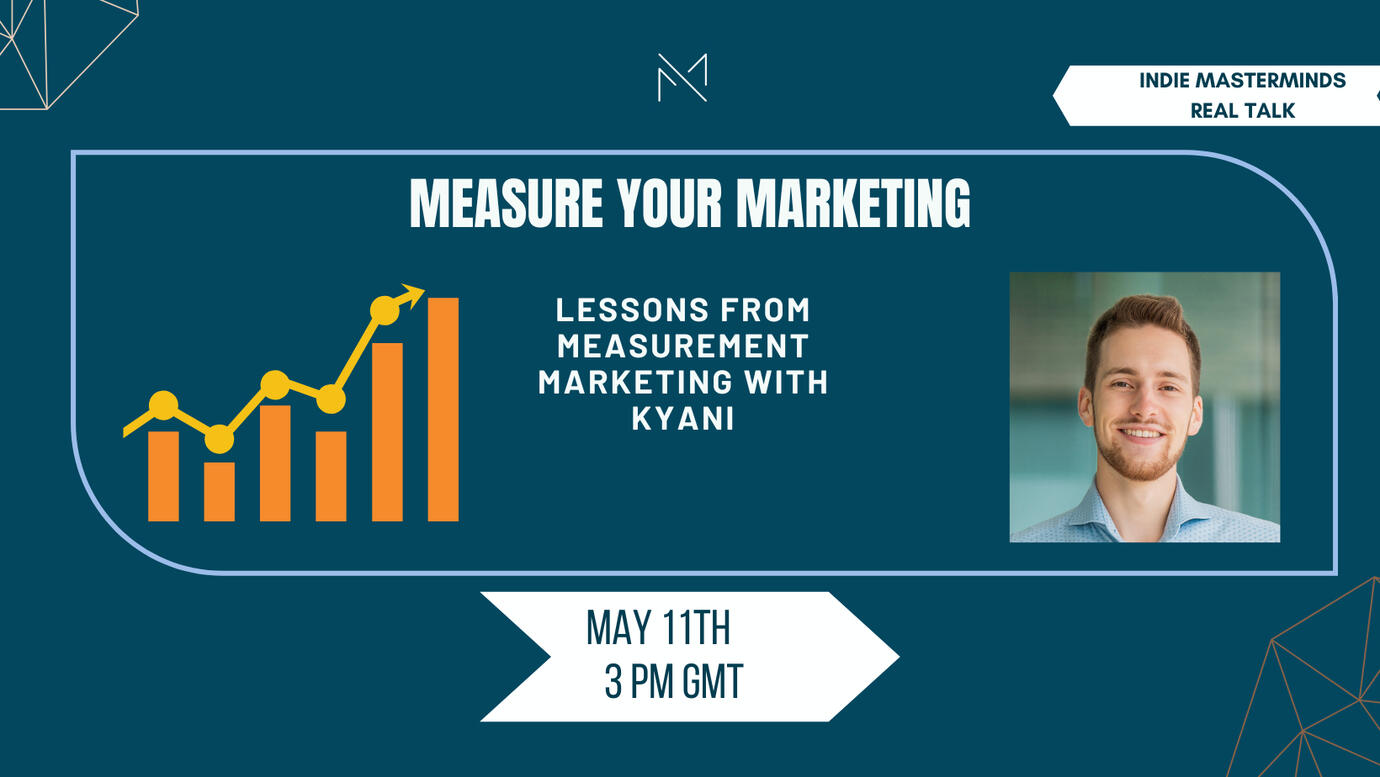 How to measure, what to measure and why to measure it?
The metrics that matter for your marketing.
Learn from an expert marketer and copywriter.
Canva Magic Workshop
with Sathya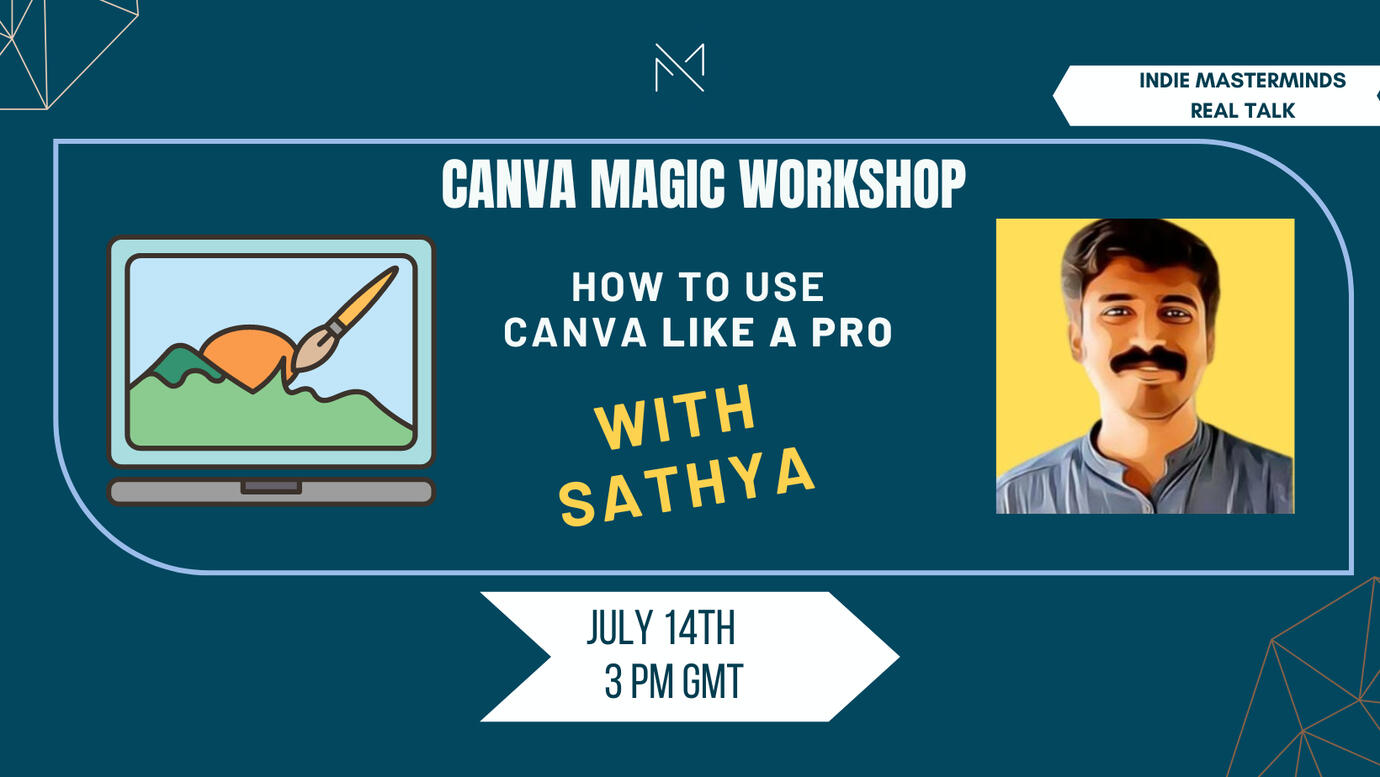 Build top notch design assets for your project.
Even if you're a Canva newbie!
Learn from one of the best visual artists on Twitter.
Some of our past workshops
Early Stage Marketing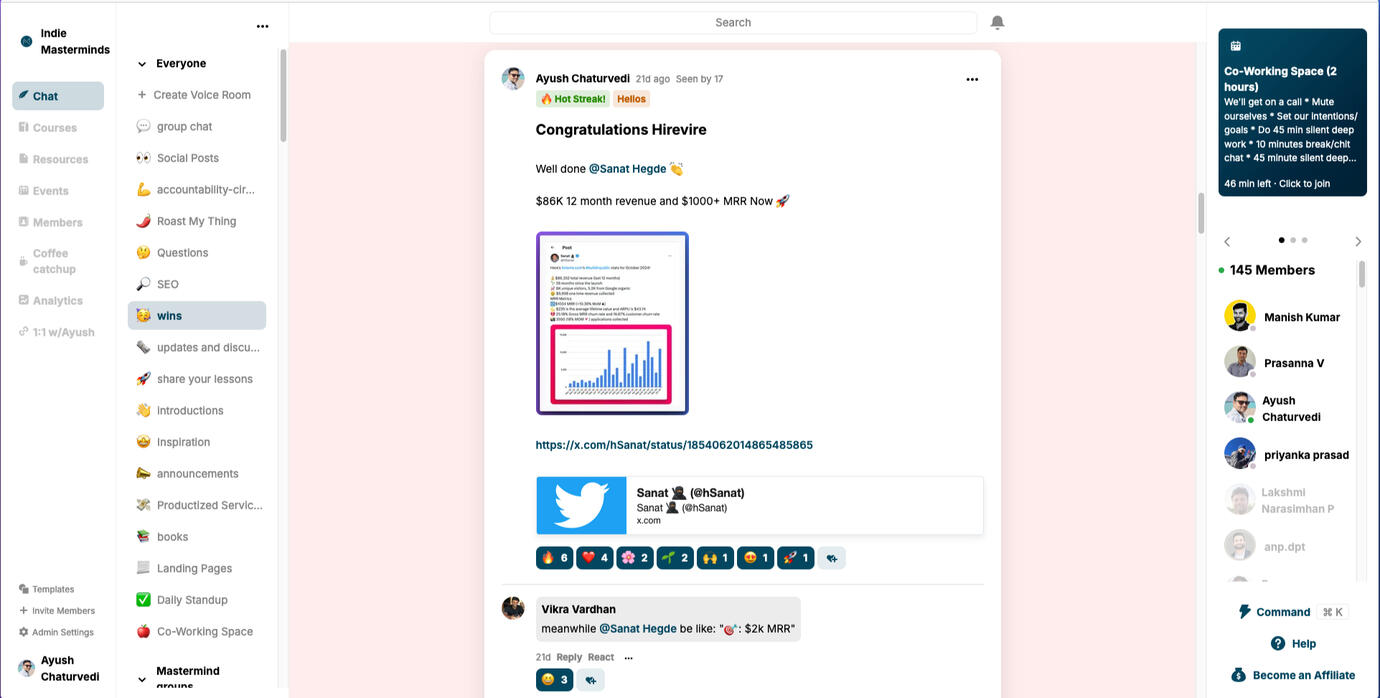 How to grow your business in the early days, with no audience and no budget.Real world insights, actionable tactics and pro tips.
The Power of Positioning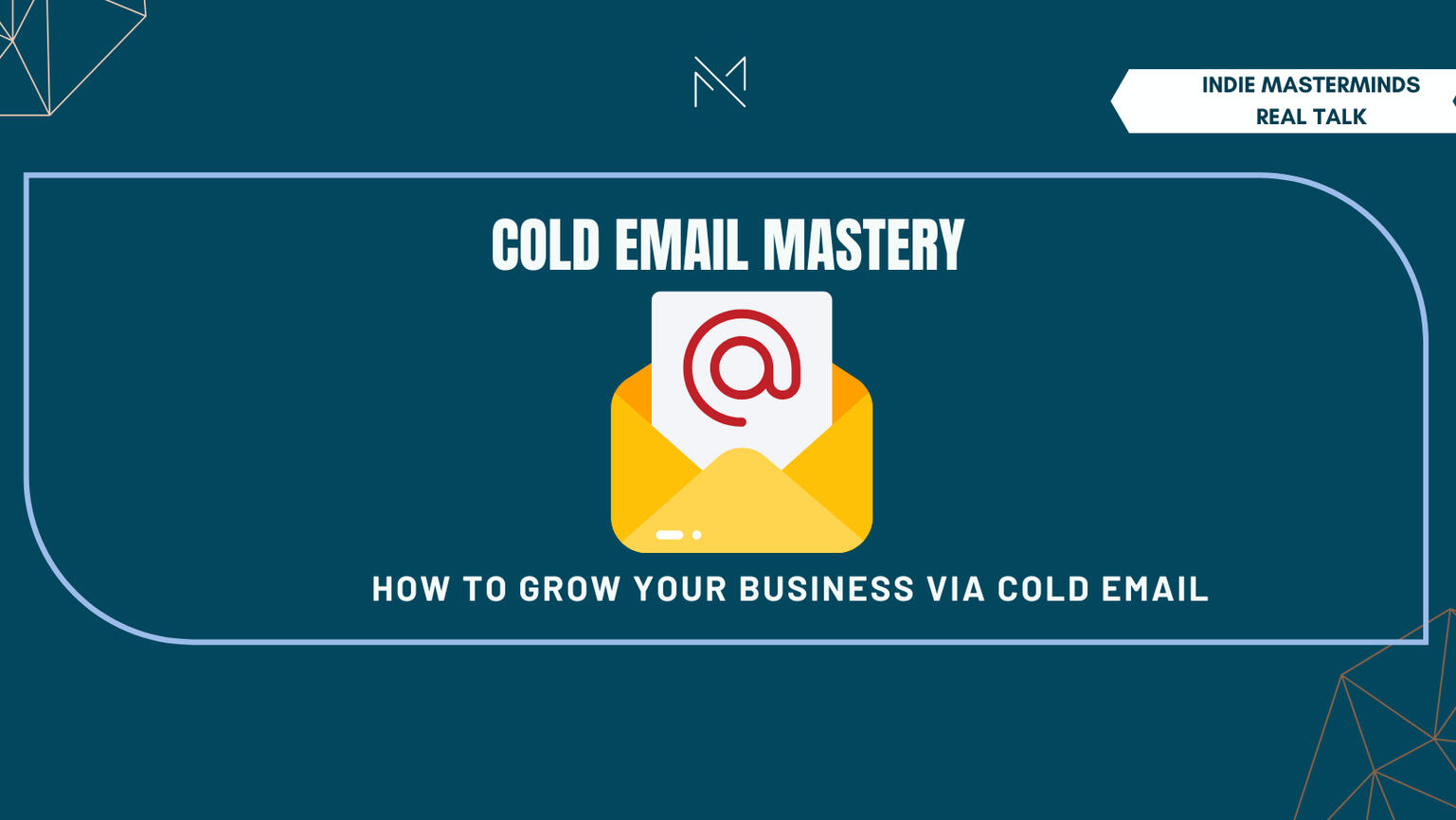 How to stand out in crowded markets and attract your ideal customers.Actionable strategies to become a category of 1.
All Things Landing Pages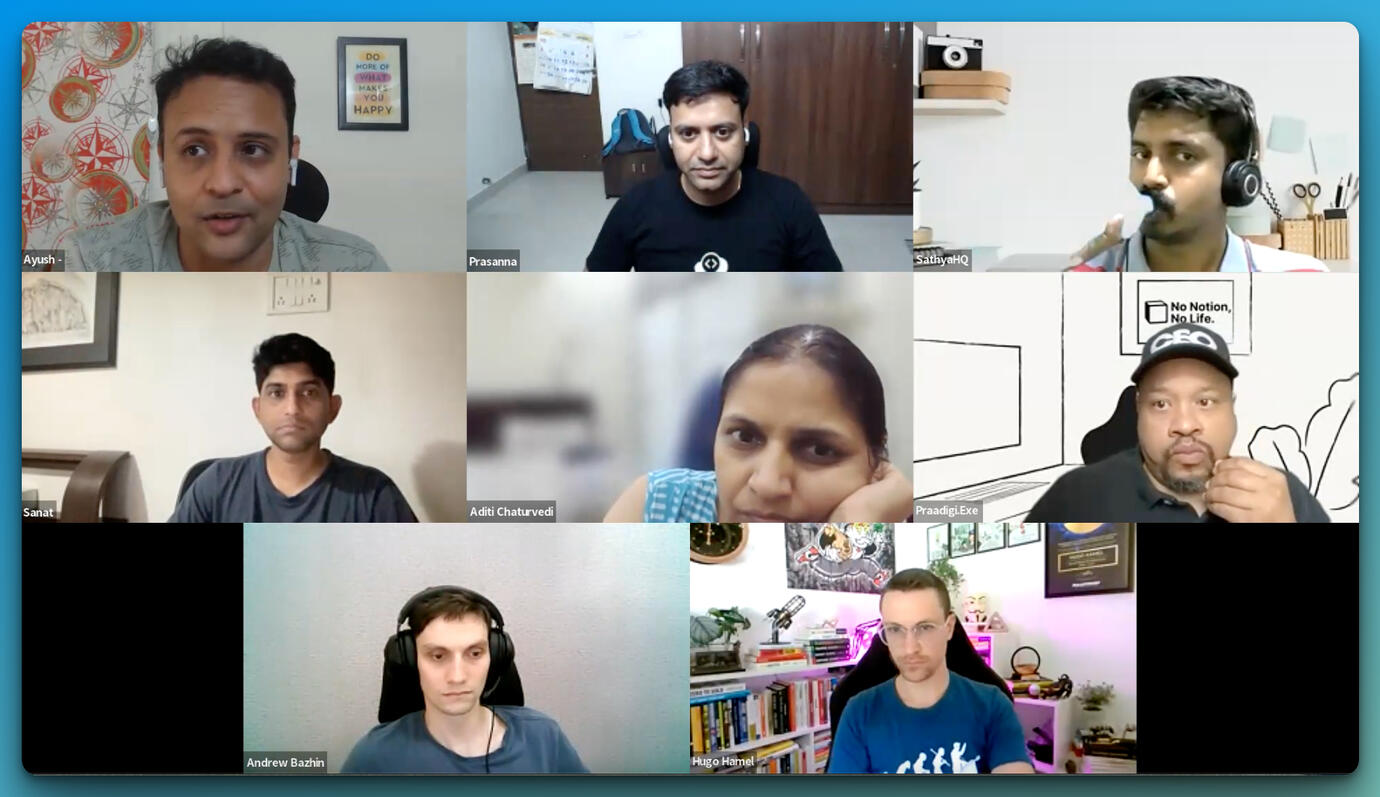 How to build high converting landing pages.Persuasive copy, stunning design and conversion rate optimization techniques.
Some of our book club sessions
The $100 Startup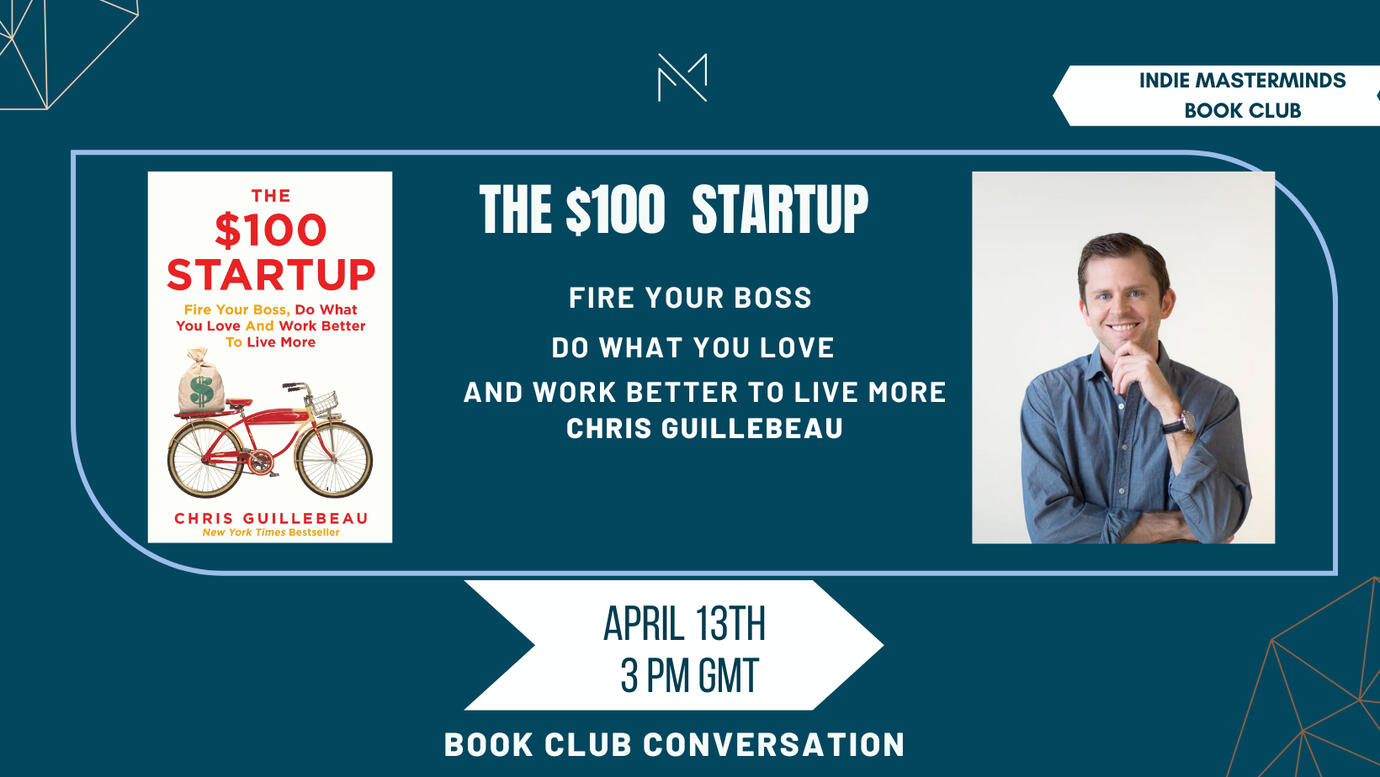 The best lessons and insights on building profitable micro businesses.A deep dive conversation into the book - The $100 Startup.
The Mom Test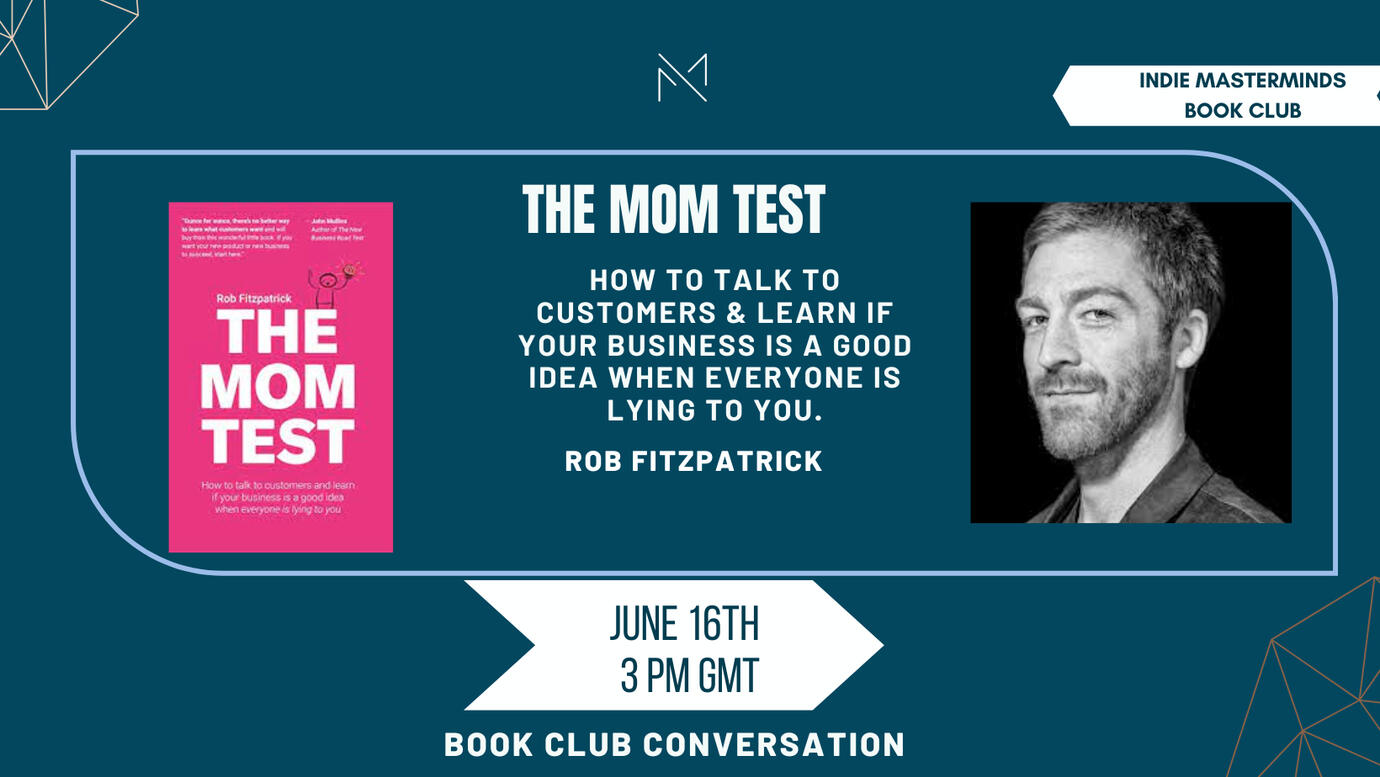 How to talk to customers to validate your business idea.A deep dive conversation into the book - The Mom Test.
$100M Offers
How to make offers so good people feel stupid saying no.A deep dive conversation into the book - The Mom Test.
Meet Your Host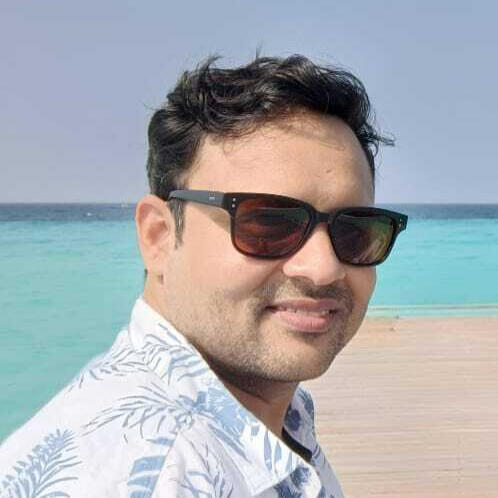 Hey there 👋 I am Ayush, I'm a Product and Marketing Consultant, Writer and a Creator-Entrepreneur.
I quit corporate slavery back in August 2021 and since then I've built 12 products and 3 service businesses. I am also the creator of SuperFrameworks and the co-founder of Elephas App.
I strongly believe in the power of community to help us become better entrepreneurs, and better people!
Which is why I started the Indie Masterminds community.
It's a safe space for creative entrepreneurs to come together and learn and grow with each other.
If that sounds interesting to you, then come join us.
FAQs
Do you offer purchasing power parity?
Yes, we offer discounts based on location and income levels. Use the chat icon in the bottom right corner to ask for a discount code
Why is this paid? I can just join a free community.
When you're not paying for something, you are the product being sold.Most free communities are promotion zones where people are only looking to build an audience and grow their business at the cost of YOUR attention.Indie Masterminds has a single purpose - Growing your business.3 more benefits to joining the community:1. It filters out people who are not serious about their business 🤷
2. It keeps you accountable (you learn more from something when you have paid for it, yes it's human psychology 🧠)
3. It can pay for the host's time and effort (so the members don't hassle over the logistics all the time)😀
Okay I get it, this is great, but founder communities cost thousands of dollars, why does this cost so less, what's the catch?
No catch. You are early, prices go up every month 😃
What business model do I need to have to benefit from the community?
Any business model can work, but it's good if you fall into these 3 categories -1. Software business (B2B SaaS, B2C consumer products, etc.)
2. Content business (Newsletters, Podcasts, E-books, Courses, etc.)
3. Service business (Freelancing, Agency, Consulting, etc.)If you're not sure of your business model yet, feel free to join, you can use the group to figure out your business model, your offering, and your marketing strategy.
I am an introvert. Will this work for me?
Indie Masterminds is a safe space with fellow like-minded entrepreneurs. You will never feel out of place or uncomfortable.
At what stage of my journey can I join?
At any stage:
- Full-time job but starting a side hustle.
- Pre-idea stage, market research, validating demand.
- Building distribution (A social media audience, newsletter, waitlist, etc.)
- Already have an idea, building the product, taking it to market. No revenue yet.
- Have revenue, looking to grow and scale your business.
You will be assigned a group according to your stage, so you will always have a chance to learn without feeling out of place.
Got more questions?
Just hit the tiny bubble on the right, let's chat 🙋
Want more help?
Join the live mastermind cohorts
An exclusive 8 week experience, for those who need high touch feedback and guidance.
Runs 4 times a year, starts from $197.